MavEtJu's Distorted View of the World
Hypnocube is finished!
Posted on 2007-12-02 09:00:00
Tags: Happiness, Electronics, Hypnocube
About a month ago I ordered a kit of the Hypnocube (Things that go blink in the night). Having not touched a soldering iron in say eight years, AU$ 200.- was quite a big amount of money to spend on it, but it was worth it. A nice piece of electronics is now sitting next to the TV.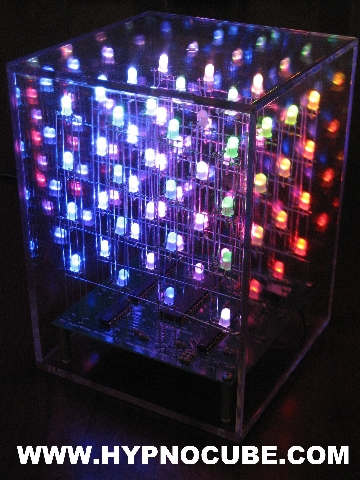 The score so far:
Four hours of soldering time.
One and a half hours of non-soldering time.
Forty centimeters of duct tape.
Quite some amount of soldering tin.
One carton box formerly filled with mango to make the jig out.
Little Dirk has managed to watch the test pattern (which shows up when you power it up) about ten times in five minutes, after which I moved it out of his range.
Quotes from family and friends:
Naomi: Insiders is a show I normally watch with full attention, but today I spend my whole time watching that silly cube.
Naomi: You should have waited for the 8x8x8 version.
Dirk: Red. And Green. And Blue. And White!
| Share on Facebook | Share on Twitter
---
Comments
: No comments yet
Leave a comment
Back to the main page